Granville Community Kitchen has been chosen as one of the first 50  Urban Food Heroes in London  by The Jellied Eel Magazine.
They say :
We were overwhelmed with the entries and privileged to pick such an amazing selection, which we are promoting through our new look Jellied Eel mag and online.  Following the launch during Urban Food Fortnight 2017, we are delighted to be able to finally share with you our first 50 Urban Food Heroes. These are people and enterprises that grow, cook, make and save food and, ultimately, are making London a better place through their amazing ventures.
And we are one of them! Hurray for us!
Have a look here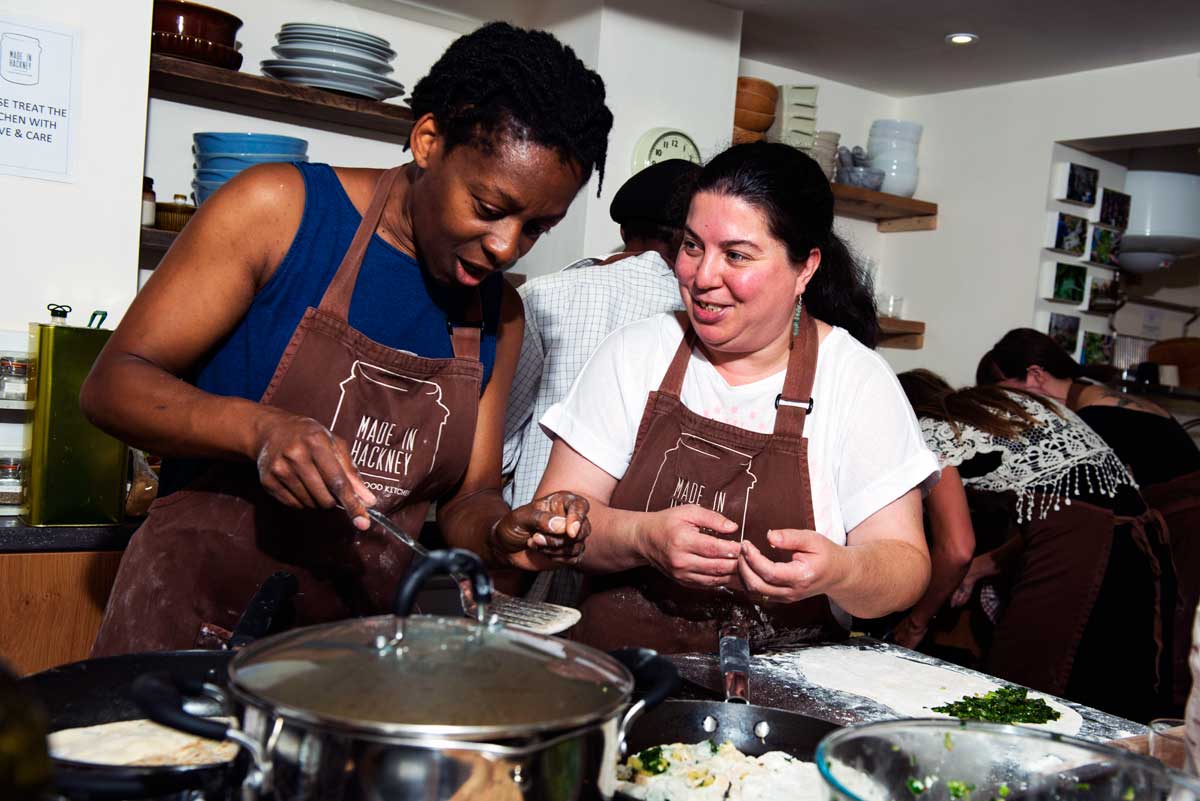 MADE IN HACKNEY BY CHRISTIAN SINIBALDI
Central Street Cookery School: This community cookery school in an inner London community centre also runs a community food growing space, helps to avoid food waste by using surplus food and hosts a community fridge.
GCDA: Runs a variety of projects that help new food entrepreneurs meet local needs. These include managing free community cookery clubs; fairly priced fruit and veg  stalls at children's centres and a new food business called PLENTY, which sells ready meals at Brockley Farmers' Market.
Granville Community Kitchen: Dee Woods, the co-founder and coordinator of Granville Community Kitchen, has worked in community food education, health promotion, organic food growing, food history and research for over 25 years. In 2016, Dee was named Cook of the Year by the BBC Food and Farming Awards.
Made in Hackney: Promotes health and environmental benefits of eating a local, organic, seasonal, plant-based diet. Teaches skills to grow, cook, preserve and compost; as well as providing training and an affordable kitchen space for ethical food entrepreneurs.
Maida Hill Place: Kitchen incubator that supports food enterprise start-ups and people wishing to re-enter employment, and has created a vibrant hub in a once drug-blighted space.
Shoreditch Trust: Home to Waterhouse Restaurant, which provides chef training in a live kitchen setting, mentoring and offering work experience to young people facing challenges.
Wolves Lane Community Food Hub: A hub of sustainable food enterprises and educators set on a 3.5 acre site. Grows organic produce, runs a local veg box scheme, teaches food growing skills, incubates start-ups and provides space for events.